printMe1.com is a simple PDF printing service for high page count documents. No log-ins, no accounts or passwords are required.
Just click "Try Us Now" on the home page to get started with your print.
Just want a print? Here are the basics.
Just click "Try us now" on our home page. Upload your PDF, choose a binding, checkout, and receive your print in the mail in about 1-2 weeks. We only ship to domestic US Addresses.
We can print in B&W or Color. There is a minimum charge of $11.99 for any order and includes either B&W pages or color pages. For additional prints over the minimum, B&W prints are 4.4¢ per page and color prints are 19¢ per page.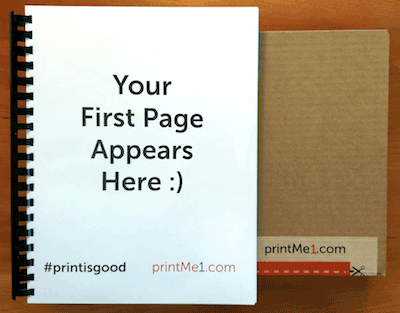 Shipping is included in our pricing (Domestic US postal addresses only).
Choose from many professional binding styles. Our printing price includes a clear acetate cover, cardstock back cover, and plastic GBC comb, and can be substituted with 3hp or no binding. Coil, Wire-O and Velo binding are available for an additional charge. (Click for binding samples)
We accept major credit cards and paypal. We do not retain any credit card information. We ship via the domestic US Postal Service. For standard shipping, please allow 1 to 2 weeks to receive your document, depending on your location. Most orders with our standard shipping are received in about a week from the date the order is placed.
Just click "Try Us Now" on the home page to get started.
Want to combine multiple PDFs, Remove pages, or add features like page numbers or a Table of contents automatically?
Start at our PDF Builder if you want to combine multiple PDF's, into the same bound document, remove pages from your PDF before printing, add page numbers or a table of contents automatically. Read more about our PDF Builder here.
Have a PDF you want to make available for students or bookstores to purchase in print using printMe1?
Make your PDF available for others to buy in print at printMe1.com without requiring them to upload the PDF to our site. Use our PDF portal to host your file in a convenient checkout format, and also with the ability for your users to download the file for free.
Just upload your PDF into our PDF Portal, we review it, then provide you a link to checkout. Distribute the link to bookstores or students, so they can order your print without needing to upload the file themselves.
Compliment the PDF Portal with our PDF Builder to create a single convenient PDF from multiple sources, and an easy way to get it in print - Perfect for teaching environments!
Read more about our PDF Portal.
Contact us with any PDF Portal Questions here.
Simple!