q:

What Is printMe1.com?

a:printMe1.com is a simple PDF printing service. Upload a PDF to get started. Then just choose color or B&W printing, and select a binding. Your PDF is printed back-to-back on 8 ½" x 11" white paper. Then we ship it to your Paypal Address via the USPS (US Addresses, including PR & APO locations, only- shipping is included in our price.) No bells, whistles, or hassle.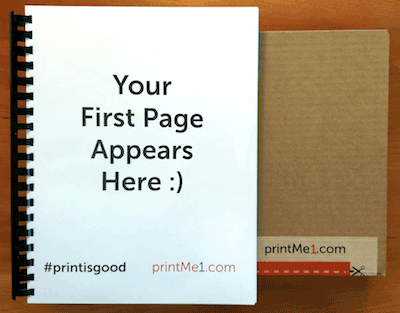 Your PDF arrives in your mailbox. Simple!
q:

How much does it cost?

a:The B&W price is listed on the main page. Color printing is 19¢ per page, with 5 color prints included in the minimum order.

The printing price includes a standard GBC comb bind with a cover set (Clear-Front, Black Linen- Back.) You can also substitute 3HP or no binding at checkout for no additional charge. This price also includes shipping. Sales tax is applicable for PA residents.
q:

Is shipping Included?

a:Domestic US Shipping via the USPS is included in our pricing. We ship to US Addresses including Puerto Rico and APO locations that are served by regular US Postal Services at no extra charge. Note on APO Addresses: If you place an order with an APO address that the USPS charges additionally to deliver to, we will contact you by email with the option to pay the extra charge or cancel your order.
q:

How long does it take to receive my order?

a:Orders are shipped within 3 business days. Please allow 1 to 2 weeks to receive your document using standard shipping, depending on your location. Once your order is shipped, its shipping progress is trackable in your paypal account. Standard shipping is included in the price via the USPS using their Media Mail service. Priority methods are available for an additional charge at checkout. If you are choosing an expedited service, please note to be sure to allow an additional 3 days to allow for the printing process. We do not ship internationally.
q:

How is the document printed?

a:The document is printed using a digital printing process. All files are printed back-to-back (double-sided).

B&W prints use standard US Letter size 20# white paper. Color prints use standard US Letter size 24# paper.
q:

What kind of paper do you use?

a:We use two kinds of paper. For B&W printing, we use US Letter size 20# white paper. This is a commmon paper type for black & white digital printing. For color printing, we use US Letter size 24# white paper. This is slightly heavier than standard copy paper.
q:

What does the binding look like?

a:We offer several different binding choices. (Samples here) The bindings are GBC comb, Three hole punch, coil, wire-o, and velo. You can also choose no binding and have your prints shipped without any finishing.
q:

What are the maximum page counts for each binding type?

a:Our site only displays binding options that will fit your PDF. Here are the pagecount limits for each binding type we offer. GBC Comb: 820 pages, Coil: 400 pages, Velo: 900 pages, Wire-o: 400 pages. (Note a page is one side of a double-sided print.)
q:

Are covers included with the binding? If so, what do they look like?

a:Yes. Covers are included with the binding. The front cover is clear acetate. The back cover is black linen cardstock.
q:

Can my document be printed in color?

a:Yes. Just choose the "Color" option when asked. Color printing has an additional charge.
q:

Can I upload a file that is not a pdf?

a:No. We only print from PDF's.
q:

Can I upload or print more than one file?

a:Our site only allows one file per order to be uploaded. You may combine multiple PDF's into one file using our BUILD feature.
q:

Can I combine PDF's together? What is the BUILD feature?

a:Yes, with our BUILD feature, you can combine multiple pdfs into one file before printing. The BUILD feature also allows you to deselect specific pages from your pdf, and allows you to add blank pages if needed & desired in between each individual pdf files to ensure that the first page of each PDF starts on the right hand side, like it should in a book. You can also download your BUILD pdf file to proof (or distribute) before printing, or go directly to printMe1's checkout with your BUILD pdf. Uploaded files must be under 100 MB each. Start at the BUILD link to use this free feature.
q:

How can I contact you about my order?

a:You can email us at contact@printMe1.com. Please include your name, email and order number from you paypal receipt.
q:

Where do you ship?

a:We ship via the USPS to United States addresses including Puerto Rico and APO locations. We do not ship internationally at this time.
q:

Where are you located?

a:printMe1.com is located in Altoona, PA.
q:

How can I contact you?

a:For the quickest response, please use our contact form.

We can also be reached at the following mailing address:

printMe1.com / Egrafa, Inc.
503 E. Plank Road
Altoona, PA 16602
q:

Privacy Policy- Is my information secure?

a:Yes. We do not share any information with 3rd parties. We use Paypal for payment processing, so there is no personal financial information supplied to us. We do retain your name and email address for our own records.