[Updated 5/10/22]
Open Educational Resources (OER) are frequently distributed in digital formats such as PDF's but often without a print version.
If you're a professor, instructor, or librarian using one of these "digital only" OER and want to provide a print option, printme1.com has created unique and easy to use features that can get a "digital only" OER into print for students and bookstores, anywhere in the US and Canada, in just a few clicks.

As many already know, our Simple Print Service for PDF's is great for anyone teaching with OER, content in the Public Domain, or materials on which you hold the copyright (ie., your own lecture notes, writings, or study guides.)
Just by visiting printMe1.com, anyone can turn their open content PDF's into a professional bound print that reads like a book, and can be mailed to a US or Canadian address.
But we also offer two amazing tools for PDF editing & mass distribution that are free to use:

Our PDF Builder allows you to create & edit a custom PDF from multiple OER PDF's. Curate your own PDF of content from multiple OER PDFs.

Our PDF Hosting service can distribute your PDF digitally (for free), or in an affordable print version to US or Canadian students or bookstores. We also track views, downloads, and prints of your Hosted PDF. (Live hosted sample from Smarthistory® here: https://www.printme1.com/preview/229adfbb8 )
For a more introspective look on everything PDF Hosting related on printMe1.com, including features & settings that allow a hosted PDF to be offered for free to the recipient, and with options to approve & reject print orders, please check out our post "The How To Guide for PDF Hosting for Printing".
Read on to find out more about Open Content, Open Educational Resources (OER), and also for our 4 easy steps to distribute OER.
First, what is "open" and what are OER?

(skip ahead to "The Four Easy Steps to Distributing OER" below if you're already an OER pro!)
OPEN CONTENT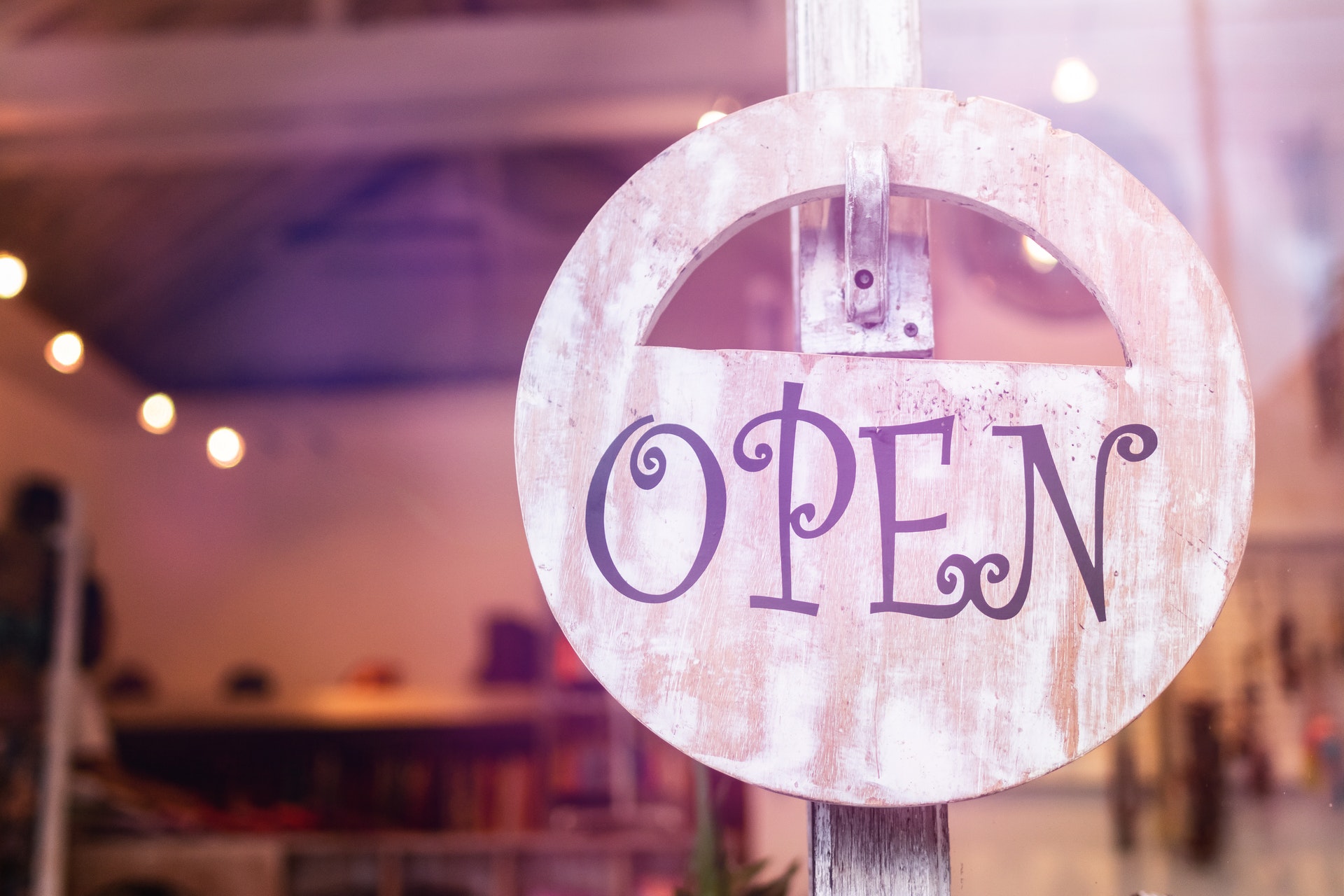 Open content is public domain content, or content where the copyright holder is expressly granting permission for anyone to use their content based on the 5R's and"is licensed in a manner that provides users with free and perpetual permission to engage in the 5R activities."- Wiley, David. "Open Content". OpenContent.org.

5 R's of Open content
Retain - make, own, and control a copy of the resource (e.g., download and keep your own copy)
Revise - edit, adapt, and modify your copy of the resource (e.g., translate into another language)
Remix - combine your original or revised copy of the resource with other existing material to create something new (e.g., make a mashup)
Reuse - use your original, revised, or remixed copy of the resource publicly (e.g., on a website, in a presentation, in a class)
Redistribute - share copies of your original, revised, or remixed copy of the resource with others (e.g., post a copy online or give one to a friend)

This material is based on original writing by David Wiley, which was published freely under a Creative Commons Attribution 4.0 license at http://opencontent.org/definition/
OPEN EDUCATIONAL RESOURCES (OER)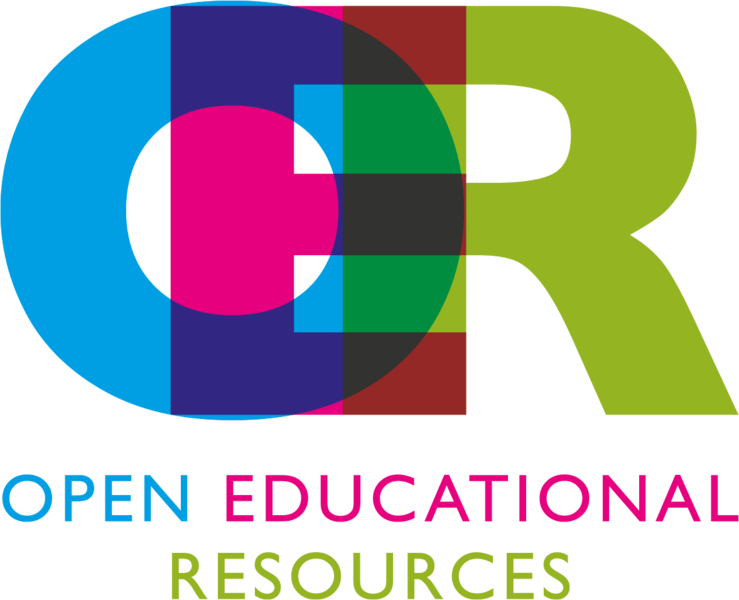 Open Educational Resources (OER) are materials used in education that are based on open content. The degree of "openness" is designated by the license.
Creative Commons is a non-profit organization that provides free licenses that copyright owners can adopt for their works to license them as open.

The types of Creative Commons Licenses are:
CC-By
Attribution-
Others may distribute, remix, adapt, and build upon the work, even commercially, as long as they credit the owner of the original creation.

CC-ND
Attribution-NoDerivs-
Others may reuse the work for any purpose, including commercially; however, it cannot be shared with others in adapted form, and credit must be provided to owner.

CC-BY-NC
Attribution-NonCommercial-
Others may remix, adapt, and build upon the work non-commercially, and although any new works must also acknowledge the owner and be non-commercial, new works do not have to license their derivative works on the same terms. The interpretation of "non commercial" pertains to users outside of the license terms, and recent court cases have found print service providers engaged by bona fide licensee's are considered non-commercial uses (ie, a teacher or student paying a service to print something CC-BY-NC used in their course is within the terms of the license.)

CC-BY- SA
Attribution-ShareAlike-
Others may remix, adapt, and build upon the work even for commercial purposes, as long as they credit the owner and license any new creations under identical terms. This license is often compared to "copyleft" free and open source software licenses. All new works based on an existing work must carry the same license, so any derivatives will also allow commercial use. This is the license used by Wikipedia, and is recommended for materials that would benefit from incorporating content from Wikipedia and similarly licensed projects.

CC-BY-NC-ND
Attribution-Noncommercial-NoDerivs
The most restrictive of CC's six main licenses, only allowing others to download these works and share them with others as long as they credit the owner, but the works can't be changed in any way or used commercially.

CC-0
No Rights Reserved-
Others may freely build upon, enhance and reuse CC-0 works for any purposes without restriction under copyright or database law.
From Creative Commons. For more information on Creative Commons licenses, please visit this link.

Other great links on OER: OER Starter Kit, Introduction to OER, Why create OER?
Also: The OER Starter Kit for Program Managers -by Abbey K. Elder
-printMe1.com mentioned on p197 :)

The Four Easy Steps to Distributing OER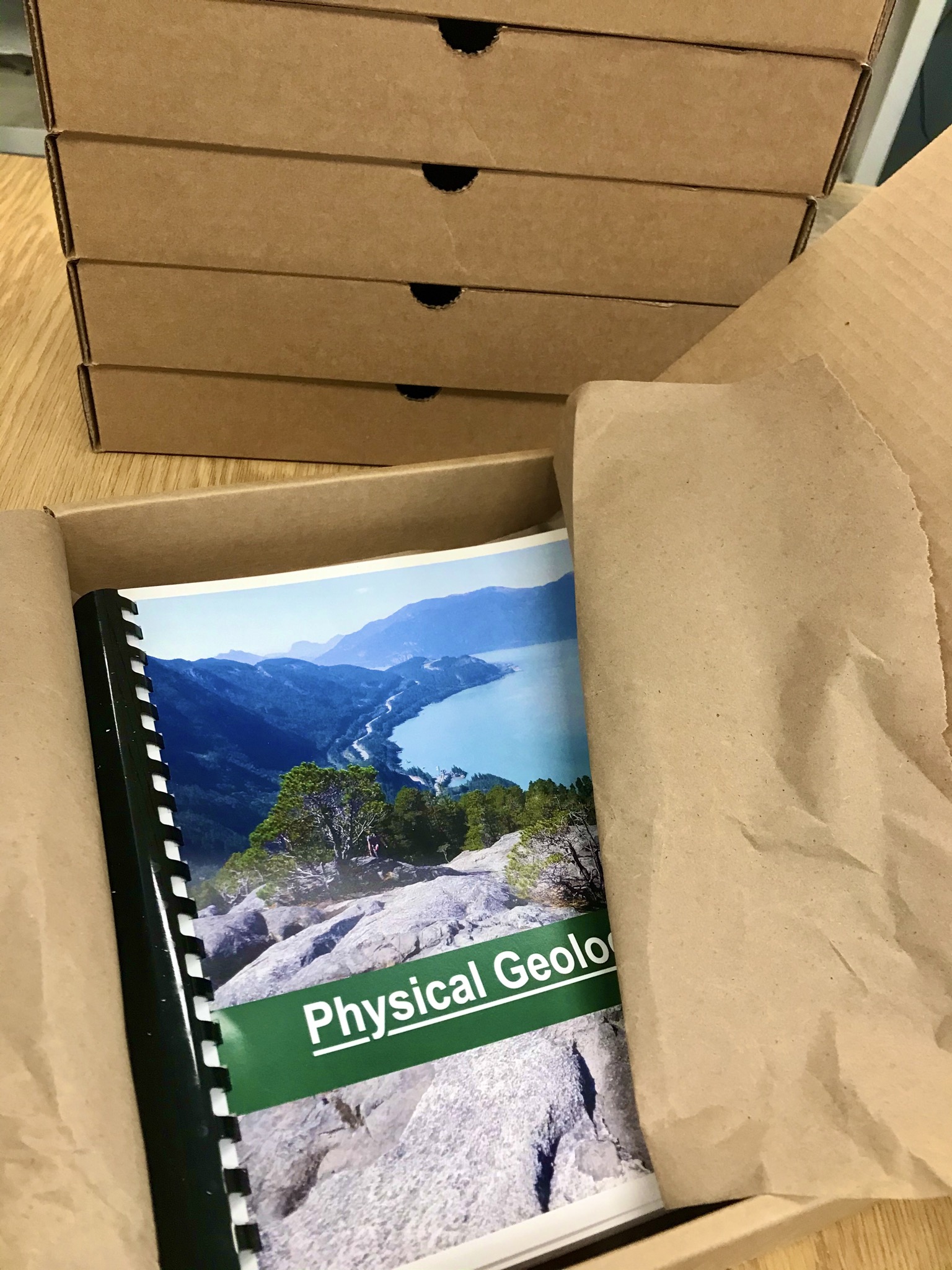 Distributing an OER for your course is a simple process.
printMe1.com has the free tools to get your PDF ready to distribute digitally, or in print, to students or bookstores.
While our standard print service works great as an OER Printing service, our free tools help customize your OER, and make it easy to distribute directly to students or your campus bookstore.

Here are the steps:

Step 1: Organize your PDF, and plan for print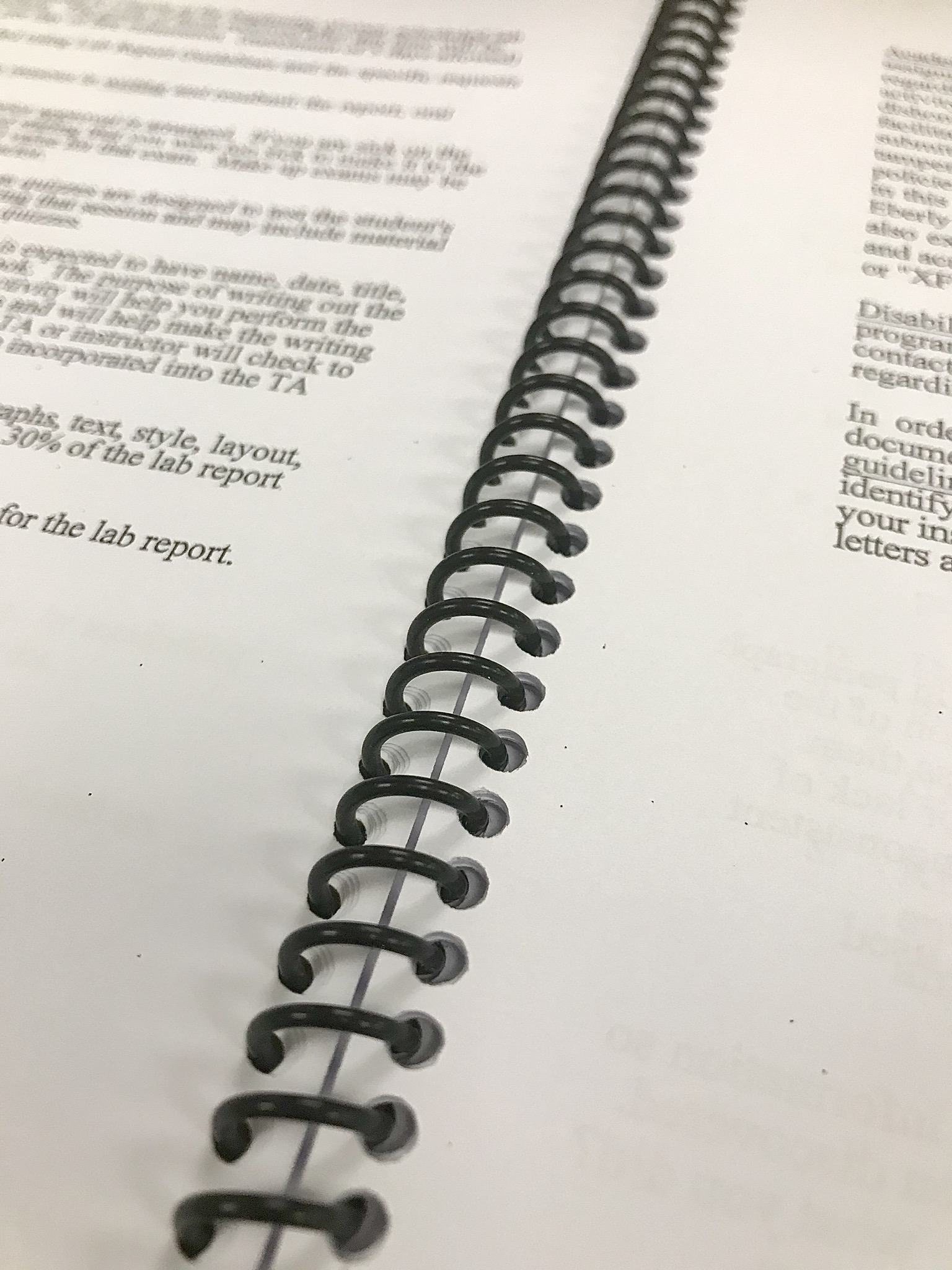 If your PDF is ready to go, skip to step 3, but if you are just getting started, please check out the following:

Planning for print means to make sure the PDF is designed for print, and that there is a convenient method for students to print the document if they want to. One of the best features of OER is that the end user can choose the format they prefer.

Some important design guidelines for using a PDF print service (like printMe1):

Page Size: 8 1/2" x 11". This is the "standard" page size in the US. Known as "US Letter". Easiest and most cost effective size to use.

Margin: 1/4" on top, bottom, and outside edge. 3/4" for gutter edge (interior side edge) to allow room for binding.

Design for double-sided printing:

- Do you have chapters or sections? Make sure they start on the "odd" page numbers. Insert a blank at the end of a chapter if it ends on an "odd".

-Don't forget if you have a front over, you also need something for the inside of the front cover, or it throws off all of the chapter/section starting pages. Insert a blank as the back of the front cover, or use it to include some credits or footnotes.

[Update 11-7-20: Please check out our post for more info on designing for Print On Demand services like ours.]



Step 2: (Optional) Use our PDF Builder to customize your PDF content especially when using open content PDF's from multiple sources. We created this free tool that lets you upload a PDF or PDFs, and from there you can create your own custom textbook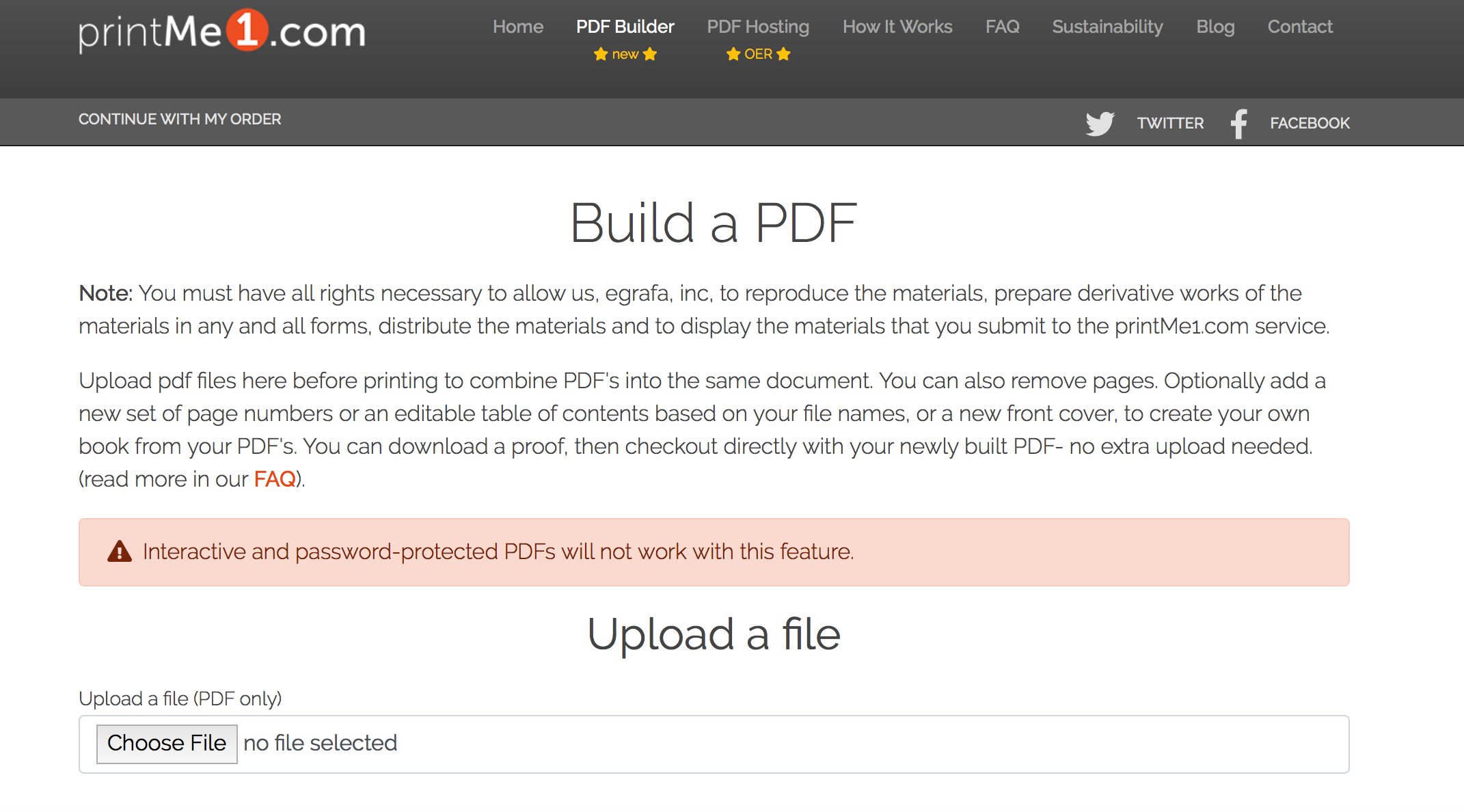 One important note on OER is that while most open licenses allow derivative works, one in particular does not. That is the CC-BY-ND. If you are using an OER with one of these, then you need to use it as-is without modification. But for all other OER types, you can mix them together as long as you are following the terms of the license. For works that are CC-BY-NC, recent court cases have upheld the use of a print service like ours when the printing is for class.


Use our free PDF Builder to:

-Combine PDF's into one PDF file

-Remove pages from PDF's

-Add an extra set of page numbers to the entire PDF
-Add chapter breaks were each new PDF starts

-Create a table of contents automatically

-Add a Front cover over your new table of contents

With the features listed above, our PDF Builder is an easy way to combine all of your OER PDF's into one file, and then use that file for your course.

To use the PDF Builder, just start here, and begin uploading all of your PDF's. No log in is required. One important note - the current version of our PDF Builder feature requires the process to be completed in one session.

Here's a video with the basic features if you would like to get an idea of how the PDF Builder works. (We have added features since this was created.)


Step 3: Upload your PDF into our PDF Hosting service. This free service creates a landing page for the PDF that allows the student to download the PDF for free, or checkout for a print from our PDF printing service.




Just start by logging in and in your account, upload your PDF file into "Hosting".
In the details for the PDF, create a title that would help identify the PDF for your students or bookstores, and then answer a few questions about the source of the materials, accept our terms of service, and then click submit.

You can also include an ISBN if the document is a stand-alone OER with a registered ISBN. This helps assist bookstore orders.

Also, you can choose the suggested print type (Color or black & white printing) and binding type you would like to be displayed as the default types. The student can change those in checkout if they want, but you can guide them into a cost or type that you think will be the most appropriate for your class.

Once the PDF is submitted for PDF Hosting, we receive a notification and review the submission to confirm that it meets the requirements for our hosting feature.

The main requirements to use our PDF Hosting service are that the materials you include are either OER, public domain, or works on which you hold the copyright. If you have items that are copyrighted and require permission and royalty to be collected, we are not able to host these in our service, however we can recommend a service for that.

Once your submission is accepted, you will receive a link to your PDF (more on that in step 4).

Click here to get started with PDF Hosting.
Note: If you feel that our PDF Hosting isn't right for you, you can also distribute the PDF from your class CMS site and direct students to printMe1.com by posting the link to our site.

Step 4 Distribute your PDF Hosting Link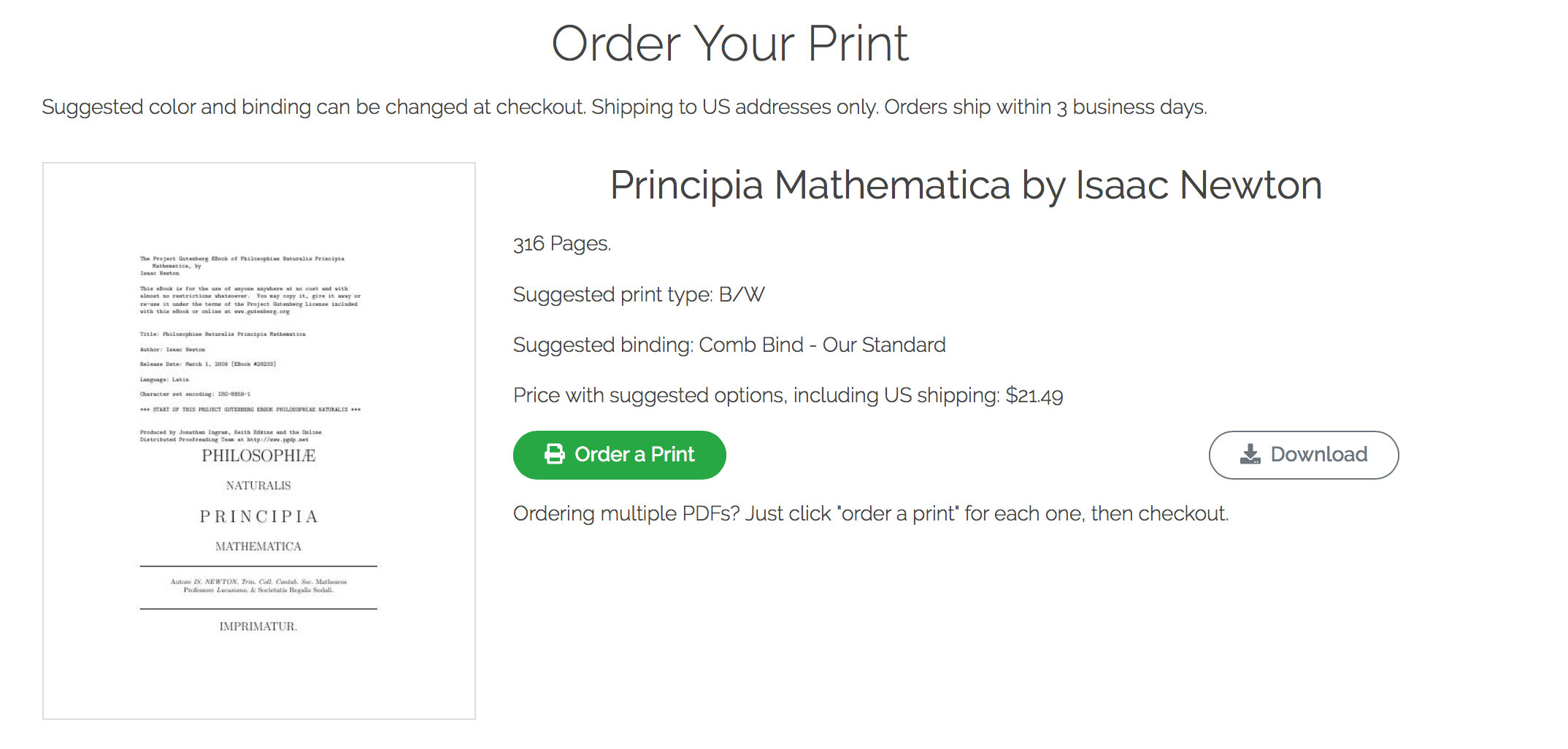 Once we approve your submission, you receive a link to a landing page that contains a thumbnail of the 1st page, then your title, the page count, and the default print and binding types you designated. There are also buttons on the landing page to order a print, or download for free.

The link is a unique landing page that displays the cover and suggested options & pricing. It also has buttons to download the PDF for free or order a print(s). The details that are displayed to the students can be changed by you in your account on printMe1.com. The account will store your PDF, and will also track and display landing page views, PDF downloads, and prints ordered.

If your user is either a student or bookstore, and they want to order a print or multiple prints, they can click the "Order Print" button, and they are in the standard checkout for our pdf printing service, with your hosted PDF in their checkout. The end user can change any of the default selections as if they uploaded the PDF themselves. The default selections are the ones you made when you submitted the PDF into the PDF Hosting feature. If the user just wants to download the PDF, they can click the download button and get the PDF for free. Share the PDF Hosting link by email, on your course website, or social media.

Our PDF Hosting service is an easy way for your US students or bookstores get your OER or open content into print in just a few clicks.
For OER Creators, if you are the PDF author, you can use the PDF hosting link to submit as the print and download location when submitting the PDF to any OER repository, campus libguide, or OER catalog website. The link is permanent, but we can also manually update the PDF at your URL link if requested, so you can keep the PDF current and still maintain the public link that has already been widely distributed and search engine indexed. This is a huge timesaver!

printMe1,com's PDF Hosting service is free and is a very simple way to distribute your course PDF.

Pro Tip 1 for OER Creators:
Publish the PDF Hosting link to your print version with us in your OER repository listings where the submission form provides an area to list a print version location.

Pro Tip 2 for OER Creators:
If you published the PDF Hosting link with OER repository listings and have updated your PDF, send us the new version and we'll put it at the old link so you don't need to republish the print link to the new version with every repository.


Conclusion: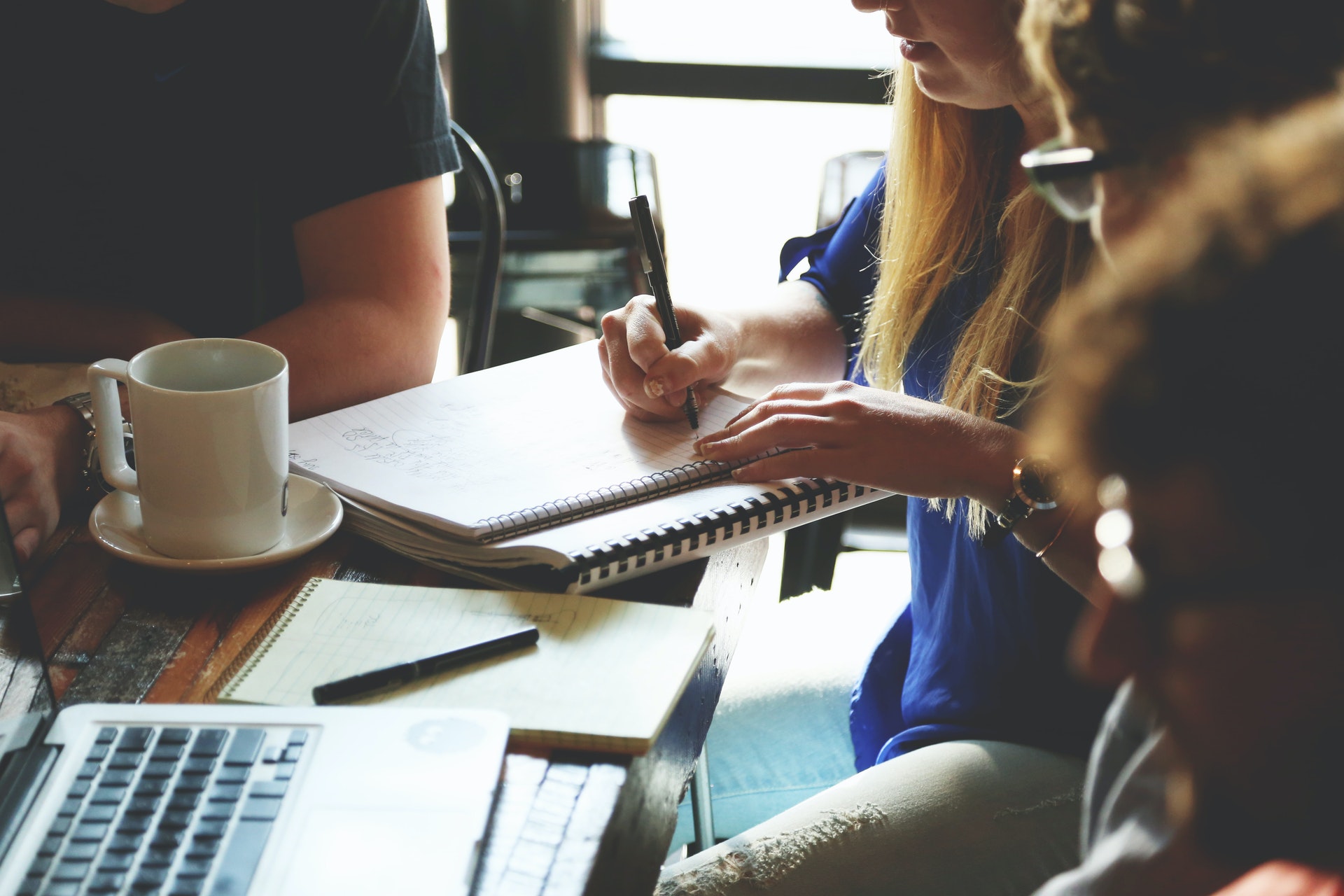 If you teach from Open Educational Resources (OER), materials in the Public Domain, or works you created yourself, and are looking for a simple way to provide a print option for your US students or bookstores, printMe1 has two awesome free tools to combine and edit PDF's, and then distribute them digitally or in print.

Our PDF Builder is a free and easy to use free feature that combines and edits your PDF's, and also has options for adding an extra set of page numbers, automatically generating a table of contents, and adding a new front cover.
Our PDF Hosting service is a free tool to create a link to a custom landing page for your PDF, with options for your users to purchase a print, or download for free. The key feature of the service that it allows your students or bookstores to order your PDF just by using the link, instead of individually uploading the PDF themselves. It's an easy way to direct your US Students of bookstores to a digital download of your PDF, or an easy to use print option. If you want a take a closer look at more advanced features for PDF Hosting, please read our post "The How To Guide for PDF Hosting for Printing".
Of course, if you just need a print of something you created, or is OER or in the Public Domain, you don't need to use PDF Hosting to get a print. You can always just use our Simple Print Service for PDF's. Just visit printMe1.com and click "Start Now" to do that.
If you have any questions about how to use printMe1.com to distribute open content, please contact us.